We take off,
come on board!
We are the global technology leader in the field of cold spraying
We are growing rapidly and are therefore looking for great colleagues for our team.
We are characterized by the innovative strength and precision of a mechanical engineering company coupled with the dynamism and passion of a "start-up". Become part of this unique combination and continue to write the Impact Innovations success story with us!
Would you like to get started with us? Then apply for one of our numerous jobs at our location in Rattenkirchen.
Vacancies currently available
Caretaker / All-rounder
(m/f/d)
Technical sales office employee 
(m/f/d)
Production worker on 520 € – basis
(m/f/d)
HR-Manager / Recruiter
(m/f/d)
Management Assistant 
(m/f/d)
Laboratory employee 
(m/f/d)
Logistics clerk (export & customs)
(m/f/d)
Industrial mechanic
(m/f/d)
Operation- / Service-Technician
(m/f/d)
Apply to us!
Have you found an interesting job offer or would you like to send us an unsolicited application? Then we look forward to receiving your application documents including your CV, letter of motivation, certificates, salary expectations and a possible start date at [email protected].
We check your application documents carefully and get back to you promptly with feedback.

Come to us and get to know us!
We invite you to an interview with our HR department and your future team leader. If we match, we will introduce you to other colleagues in a second round of interviews and show you our offices.
Sometimes we also conduct a first telephone interview in advance. For us, getting to know each other early is absolutely essential. If the phone calls are positive, we will invite you to a personal meeting very quickly.
You fit us and want to work with us. Congratulations! From now on you are part of the Impact Innovations Team! We look forward to having you with us!

Come on board and take off with us!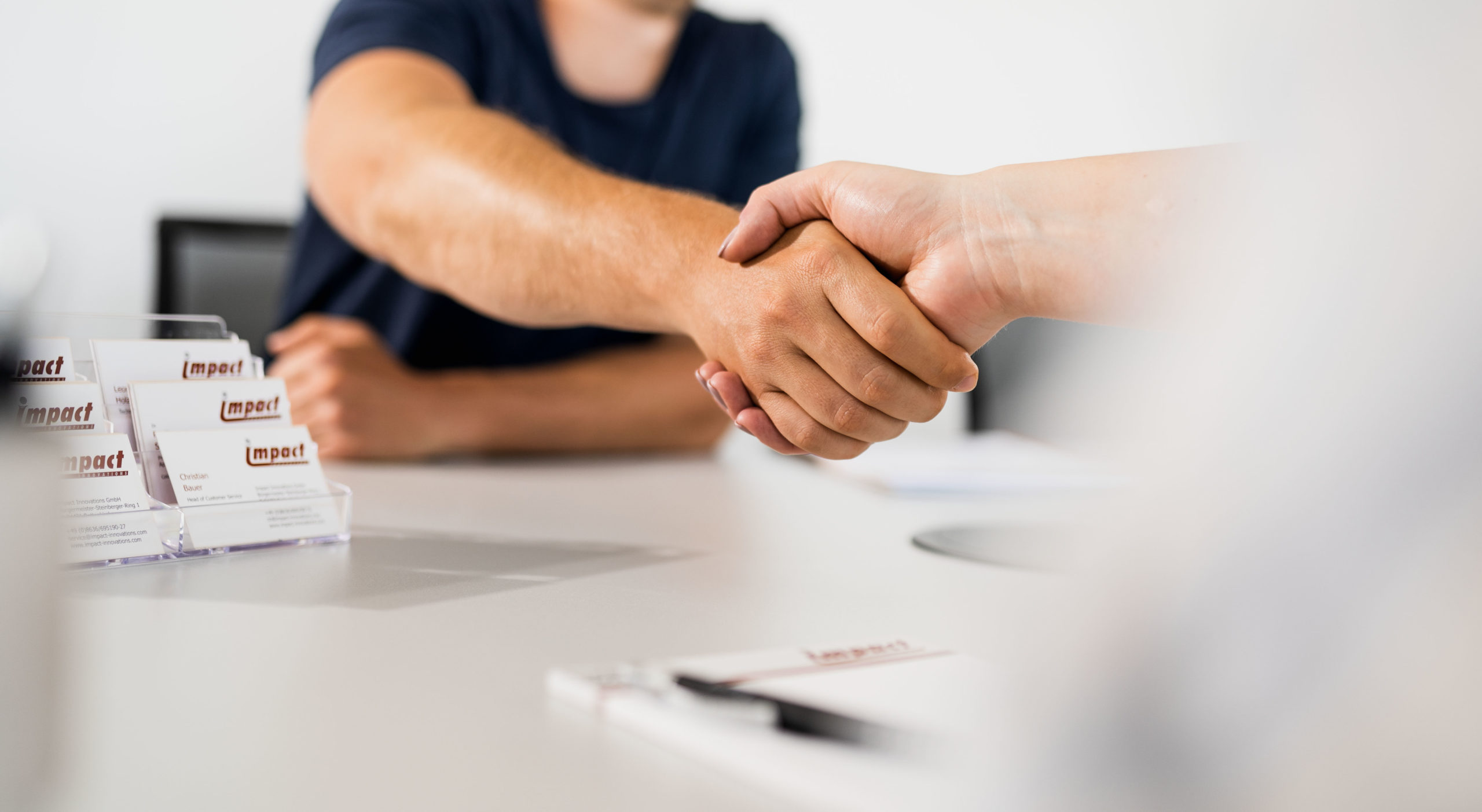 Ready for TakeOff?
Then apply now or contact us!
Your personal contact for everything to do with careers at Impact Innovations:
Ulrike Heumeier / Human Resources
Impact Innovations GmbH
Bürgermeister-Steinberger-Ring 1
84431 Rattenkirchen